Gaylord L Davis1
#8135, b. 25 December 1934, d. 16 July 2016
     Gaylord L
Davis
was born on 25 December 1934
Oregon
.
1,2
He was the son of
Harold L.

Davis
and
Marue Faye

Blomfield
.
1
Gaylord L Davis died 16 July 2016, in Milwaukie, Clackamas County, Oregon at age 81 years, 6 months and 21 days.
3
..."Rachel Joan Mills, the love of his life. Butch married Rachel in 1957. They had four children in four years and they remained happily married for 56 years."..."Butch is survived by his daughter Kelly Drath & husband Ron; son Kerry & partner Anna; son Rick & wife Peggy; son Tracy & wife Lori; Libby Cozza; grandchildren Jami Drath, Charlotte, Kincaid & Ryan Davis, Danielle & Maggie Burgess, Addy & Charlotte Cozza. A memorial service will be held at 11:00 am on Monday July 25, 2016 at Wilhelm's Portland Memorial Funeral Home." and was buried
Wilhelm's Portland Memorial Mausoleum, Portland, Oregon
.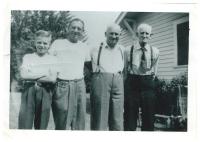 Gaylord, Harold L, Henry E, Thomas Davis, ca 1945
Citations
[S558] Mike Riese, "Mike Riese Email," e-mail message from e-mail address (Shenandoah Junction, WV) to Pat Dunford, 10 Aug 2015.
[S428] 1940 US Census Population Schedule, Washington, District of Columbia, Population Schedule, US National Archives, Census Place: Portland, Multnomah, Oregon; Roll: T627_3387; Page: 61A; Enumeration District: 37-157A.
[S419] FindAGrave, online FindAGrave.com, Memorial ID 167846071.