Verna L Palmer1
#8470, b. 24 January 1896, d. 15 September 1966
     Verna L
Palmer
was born on 24 January 1896
Missouri
.
1,2
She was the daughter of
William Burton

Palmer
.
1
Verna L Palmer died 15 September 1966, Boone County, Missouri at age 70 years, 7 months and 22 days.
2
     In spite of the difference in ages, Jewel and Verna Lee graduated from the University of Missouri-Columbia in 1916.
Both of them with degrees in Education, Jewel was a member of the Home Economics Club, both members of Alpha Phi Sigma, which at the time was the education fraternity at the University of Missouri.
3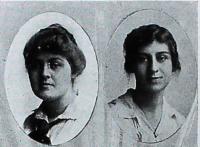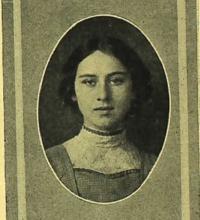 Citations
[S254] 1900 US Census Population Schedule, Washington, District of Columbia, US National Archives, Year: 1900; Census Place: Salisbury, Chariton, Missouri; Roll: 847; Page: 11A; Enumeration District: 0044; FHL microfilm: 1240847.
[S157] Social Security Death Index, accessed from Ancestry.com, Verna L Ridge.
[S395] Ancestry.com, online Ancestry.com, U.S., School Yearbooks, 1880-2012 University of Missouri-Columbia 1916.