Henry Laramie Palmer
#394, b. 2 June 1853, d. 5 April 1913
     Henry Laramie
Palmer
was born on 2 June 1853
Ft. Laramie, Wyoming Territory
. He was the son of
John Henry

Palmer
and
Catherine Nowlin

Graves
. Henry and
Charlotte Ellen

Parks
, daughter of
George Ballard W.

Parks
and
Cynthia Ann

Richardson
, were married 12 April 1878
Whitman County, Washington
.
1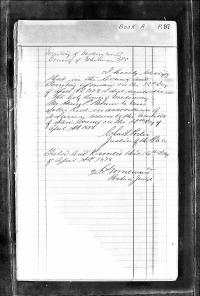 Henry Laramie Palmer died 5 April 1913, Jackson County, Oregon at age 59 years, 10 months and 3 days.
2
Medford Mail Tribune
. (Medford, Or.) April 07, 1913, SECOND EDITION, Image 6
PALMER -- At the home of his daughter, Mrs. O. W. Dunford, Jacksonville. April 5, 1913. Henry L Palmer, aged 60 years. He was a resident of Silverton, Ore., where the remains were shipped for Interment.
Obituary, Henry L. Palmer
Last Saturday, at the home of his daughter, Mrs. Oscar Dunford, accured [sic] the death of Henry Laramie Palmer, aged 60 years.
The deceased was born at Fort Laramie, Wyoming, June 2, 1853, as his parents were crossing the plains to Oregon. They finally settled in Marion county near the present site of Mt Angel, where he grew to manhood. In 1878 he was united in marriage to Miss Lottie E. Parks of Colfax, Wash., and to this union were born three children.
Mr. Palmer is survived by his two daughters, Mrs. Nettie Boyd of California and Mrs. Oscar Dunford of Jacksonville, also four brothers, Marion of Silverton, Thomas and Edwin of Portland and C. B. Palmer of Uniontown, Kansas.
Jacksonville Post 7/6/1907-2/28/1914. He was buried
Miller Cemetery, Silverton, Marion County, Oregon
.
3