Harold L. Davis1
#3529, b. 29 October 1904, d. 18 December 1969
Child of Harold and Marue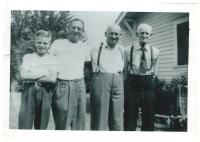 Gaylord (Butch), Harold L, Henry E, Thomas J Davis, c 1945
Citations
[S210] Letter from Mollie Palmer (Portland, Oregon) to Nellie Palmer Dunford, 1945; Patricia L Dunford Files (Patricia L Dunford, 3736 N Tucson Blvd, Tucson, Pima County, Arizona, 85716).
[S419] FindAGrave, online FindAGrave.com, Find A Grave Memorial# 34092533, courtesy Mike Riese.
[S558] Mike Riese, "Mike Riese Email," e-mail message from e-mail address (Shenandoah Junction, WV) to Pat Dunford, 10 Aug 2015.