William Clough Trent
#135, b. 15 September 1824, d. 22 July 1886
     William Clough
Trent
was born on 15 September 1824
Cumberland County, Virginia
.
1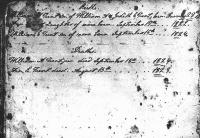 He was the son of
Dr. William Alexander

Trent
and
Judith Clough

Anderson
.
1
William Clough Trent may have married
(--?--)

Ray
. Anderson gives what appear to be initials of a publication as a source for this marriage, but fails to give the title of the publication. "(C.M.T.S., Feb. 20, '35.)
2
" William and
Mary Virgin

Bonner
were married 14 May 1850
DeSoto County, Mississippi
.
3,4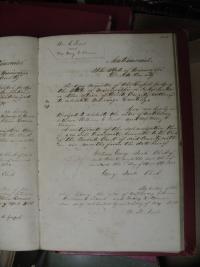 A marriage bond was filed for William Clough and
Mary Virgin

Bonner
dated on 8 April 1850
DeSoto County, Mississippi
.
5
William Clough Trent died 22 July 1886, in Somerville, Tennessee at age 61 years, 10 months and 7 days.
Obituary from the Gately Scrapbook, from various sources of information.


William C Trent

Died July 23, 1886, son of Dr. William A. Trent, late of Lynchburg, Virginia and a lineal descendant of Benjamin Harrison, one of signers of Declaration of Independence and grand nephew of General William Henry Harrison, the 9th President of U. S.

In 1847 at age 24, moved from Virginia to DeSoto County, Mississippi, then to Fayette County, 1848.

Engaged in farming principally until after the war when he moved to Somerville.

Married 1850, Miss Mary V. Bonner, of DeSoto County, Mississippi.

Deacon in Somerville Presbyterian Church, 1876.

Buried beside eldest daughter, who had died a few years before.

Born Cumberland County, Virginia, September 15, 1824.

Mason in LaGrange Lodge and joined Somerville Lodge in 1865.

Survived by
Wife
Two sons
R. B. Trent, Scammonville, Kansas
T. B. Trent, Malta Bend, Missouri
Buried Asbury Cemetery
[incorrect, buried Somerville]. His estate was probated in October 1886
6
and was buried on 23 July 1886
Somerville Cemetery, Somerville, Tennessee
.
From a typescript of minutes of meetings of the Masons in Somerville, which are essentially funeral proceedings.
July 23rd, 1886
Masonic Hall, Somerville, Tennessee, July 23rd, A. L. 5886
A.D. 1886

Called communication of Somerville Lodge No. 73, F & A. M.

Present, John Wetzler, W. M., B. M. Faris, S. W., J. Hobson, J. W. prote[ ] J. H. Dortch, Secty., S. J. Cocke as Treas., J. M. Hilliard as S. D. E. R. Scruggs, J. D., S. E. Brackin and C. C. Hay, Stewards, F. Maddox, Tyler. Brothers, McClellan, Leach, Henden, Carter, Winfrey, Gaither, Hamblett. Visiting Bros. Chew, Montgomery, Crawford, Perry and Sanders.

The Lodge was opened in the Masters Degree.

By request of the W. M., Bro. John Wetzler, Bro. McClellan, the oldest P. M. took the East and presided.

The W. M. then stated the object of the meeting to be for the purpose of burying Bro. W. C. Trent who departed this life at his home on yesterday at about 1 o'clock P. M.

The W. M. appointed the following Pall Bearers, Bros. Winfrey, Carter, Hamblett, Gaither, Crawford and Montgomery and Marshall, Bro. John Wetzler.

On motion a committee of three consisting of Bros. Dortch, Faris and Carter were appointed to draft suitable resolutions commemorative of our deceased brother, W. C. Trent, and to have same published at once in the Somerville Reporter and Falcon without submission first to the lodge.

The Lodge formed in procession, marching to the house of our departed brother, then took charge of the body and to the melancholy strains of regret played by the Somerville Cornet Band, conveyed it to the Presbyterian Church. Here the funeral of this denomination was preformed by Bro. the Rev. B. M. Faris and upon the conclusion the mortal remains of our brother were conveyed to this last resting place in the Somerville Cemetery. Upon performing these last sad rites the lodge reformed and returned to the lodge room

Bro. J. H. Dortch, then introduced a resolution of thanks to the Somerville Cornet Band for their kindness in furnishing the music which so much added to the solemnity of this occasion, which said resolution was by the lodge unanimously carried, and the Secty. Instructed to transmit a copy of the same under seal of the lodge to the Leader of said Band.

No further business appearing the lodge was closed in peace and harmony.

J. H. Dortch, Secty. John Wetzler, W. M.
     He left a will on 2 March 1868
Fayette County, Tennessee
.
6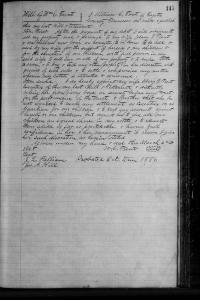 Children of William and Mary