William A Trent1
#3812, b. 28 December 1820, d. 13 September 1824
     William A
Trent
was born on 28 December 1820.
1
He was the son of
Dr. William Alexander

Trent
and
Judith Clough

Anderson
.
1
William A Trent died 13 September 1824 at age 3 years, 8 months and 16 days.
1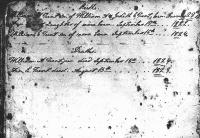 Citations
[S232] Anderson, Cocke, Coupland, Gannaway, Harris, Harrison, McClung, O'Sheal, Trent, Wilson Deane, Trent family Bible record, 1749-1903, digital image (Richmond, VA: Library of Virginia, 1817); Unknown, Library of Virginia, Richmond, Virginia.