Caleb Richardson1
#1835, b. 1799, d. 28 September 1870
     Caleb
Richardson
was born in 1799
Virginia
. He was the son of
William

Richardson
and
Jane

Bobbitt
. Caleb and
Celia

Humphries
, daughter of
George

Humphries
and
Charlotta

(--?--)
, were married 29 January 1818
Pulaski County, Kentucky
.
2
A marriage bond was filed for Caleb and
Celia

Humphries
dated on 2 February 1818
Pulaski County, Kentucky
. The bond was signed by There is a marriage bond dated 2 Feb 1818 for Sealy Humphreys and Caleb Richardson (as transcribed), consent of his mother, Jane Richardson, and of her father, George Humphries. Boler Humphries surety for the bond (1).
A copy of a list of marriage returns, by marriage date has (handwritten) Cabel Richardson and Selay Musshras, 29 January 1818. (2.)
3,4,2
Caleb Richardson died 28 September 1870, in Liberty, Tipton County, Indiana at age 71 years.
5
He died 18 May 1870 at age 71 years, according to garymurrell@yahoo.com. He was buried
Richardson Cemetery, Sharpsville, Tipton County, Indiana
.
5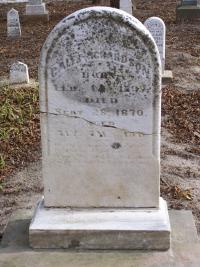 He left a will on 18 May 1870
Tipton County, Indiana
,
Bequests:
"beloved wife Celia Richardson have one third of estate both real and personal...
"three grandchildren, Jasper, Helen & Georgia Richardson, heirs of my beloved son Johnathan..one hundred dollars each...
"son Stephen, five dollars...
"remainder be equally divided beween my children to wit except my son Calib Richardson who is to have an amount equal to two of the others..MaryWilliam, Charlott Jane Cintha George John James Joel Andrew J [Emetine]and Strange Richardson that said the amount of property to be divided equally between the above [ ] children except Calib who is to have an amount equal to two of the others..."
The will was under seal and opened and read 3 Oct 1870.
6
Children of Caleb and Celia