George Washington Palmer
#1223, b. 26 July 1842, d. 26 April 1911
Children of George and Mary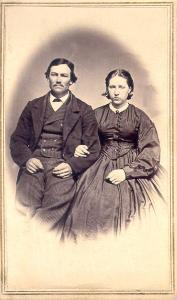 George Washington Palmer (Wash) and Mary Parks. Probably their wedding picture.
Citations
[S98] J. Denton Palmer, compiler, "Palmer Family File"; Ancestral File (ca 1999),.
[S220] Western States Marriage Index, online http://abish.byui.edu/specialCollections/westernStates/search.cfm, Vol B p 25. Hereinafter cited as Western States Marriage Index.
[S56] Letter from Denton Palmer (2392 Williams Rd., Oak Harbor, WA 98277) to Patricia Dunford, ca 1999; Patricia L Dunford Files (Patricia L Dunford, 3736 N Tucson Blvd, Tucson, Pima County, Arizona, 85716).