Ernest Stephen Palmer
#1099, b. 5 January 1875, d. 11 December 1939
     Ernest Stephen
Palmer
was born on 5 January 1875
Oregon
.
1
He was the son of
Marion

Palmer
and
Josephine E

Porter
. Ernest Stephen Palmer was born in July 1875
Oregon
. Ernest and
Alma Grace S

Ruble
were married 5 December 1899 E. Palmer, over 21, & Alma Grace Ruble, over 18, m 5 Dec 1899 at house of R. C. Ruble by R.C. Ramsby, J.P. Aff: Charles Long. Wit: Florence Brown & John Blair. #5783 pg 469.
2
Ernest Stephen Palmer died 11 December 1939, Benton County, Oregon at age 64 years, 11 months and 6 days and was buried
Miller Cemetery, Silverton, Marion County, Oregon
.
Children of Ernest and Alma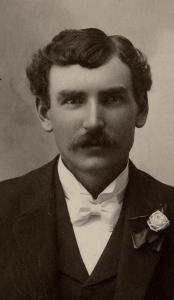 Citations
[S395] Ancestry.com, online Ancestry.com, U.S., World War I Draft Registration Cards, 1917-1918 for Ernest Stephen Palmer.
[S453] Ann & Dora Bash Hochspier, compiler, Marriage Records of Marion County, Oregon, Vol 9, 1897-1900 (Salem, Oregon: Willamette Valley Genealogical Society, 1991).
[S165] Tombstone.