William James Graves1
#607, b. 10 January 1830, d. 2 August 1884
     William James
Graves
was born on 10 January 1830
Pittsylvania County, Virginia
. He was the son of
William

Graves
and
Lucy

Berger
. William James Graves married
Soledad

Pico
, daughter of
José de Jesus

Pico
and
Francisca Antonia Gabriela

Villavicencio
, on 20 October 1851
San Luis Obispo, California
; "Let us make a diary for a year or two: 1851. . . The same day was published the marriage of William J Graves to Miss Soledad Pico at San Luis Obispo, on October 20th. . ."
*Los Angeles From the Mountains to the Sea*, p 73; John Steven McGroarty, Am Historical Society, 1921. William James Graves died 2 August 1884 on a steamer between San Francisco and, San Luis Obispo County, California at age 54 years, 6 months and 23 days.
San Francisco Bulletin,
4 August, 1884, p. 2
Death of a San Francisco Attorney.
A private dispatch was received to this city last night from San Luis Obispo, stating that William J. Graves, an attorney of this city and ex-state Senator, had died on the steamer on her down trip. The deceased married a Spanish lady of San Luis Obispo who survives him. He also leaves several grown-up children.
THE LATE W. J. GRAVES
IMPOSING FUNERAL CEREMONIES.
San Luis Obispo, August 5. The interment of the late W. J. Graves took place today, and was the largest demonstration of respect ever exhibited in this city. A grand High Mass was celebrated at the Catholic church at 9:30 A.M., during which a most eloquent sermon and panegyric was delivered by Father Pugol. The body laid in state in the church until 2 o'clock P.M. when the funeral took place. When the ceremonies were completed the funeral procession was formed, under the directions of General Murphy and C.J. Russell. The pall-bearers were Frank McCoppin, J. M. Fillmore, William Buckley, D. W. James. J. C. Baker, Judge Venable, Jeffrey Phelan, H. K. Woodside, E. G. Dana. Mayor E. B. Morris, L. M. Warden, C. H. Ivens, H. O'Conner, W. M. Jeffreys and C. H. Johnson. The cortege was over one mile in length. All the business houses were closed and a great many were draped in mourning, and the scene presented was most imposing as the procession slowly marched to the cemetery. The Superior Court and City Council adjourned in respect to the memory, of the deceased, and the Bar, after passing appropriate resolutions, attended the funeral in a body.
SURPRISE AND REGRET AT HIS DEATH. San Buenaventura. August 4. People were astounded here to-day on hearing the news of the death of ex-Senator William J. Graves. Ernest Graves, District Attorney of San Luis Obispo county, who was here on legal business, left immediately on receiving the news. Senator Graves was highly esteemed and a leading attorney of this part of the State. He represented this district in the State Senate in 1874 and was also a member of the Constitutional Convention. He was one of the pioneers of the State, arriving here in 1849. He served as First Lieutenant in the Mexican war under Sterling Price.
2
and was buried
Old Mission Cemetery, San Luis Obispo, San Luis Obispo County, California
.
3
     He has been called Buck. He Graves, William J. of San Luis Obispo County, Calif. Member of California state assembly 2nd District, 1855-56, 1857-58. Burial location unknown. He was educated; Studied law under David Nowlin. He served in the Mexican American War, with Gen Kearney. He served From Fold 3:
William J Graves is listed as a First Sergeant in Company A, Easton's Battalion, Missouri Infantry, for the Mexican War.
In looking at the battalion, we find:
Campaign streamers for this unit include New Mexico, 1847, and Chihuahua, 1848.
Alton R Easton is listed with the 1st Regiment St Louis Legion Missouri Volunteers, as well as the Infantry Battalion Missouri Volunteers in the Mexican War.
The Missouri SOS office has
William J Graves, 1 sergnt, Capt. E. H. Shepard's Co., A
Age 18,
Enrolled May 8, 1847
St. Louis, Missouri.
Mustered in 10 May 1847
Discharged at Santa Fe New Mexico Aug 20, 1848, term of Service expired.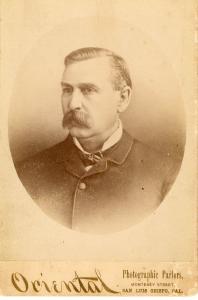 Citations
[S395] Ancestry.com, online Ancestry.com, California, Voter Registers, 1866-1898, William James Graves, San Luis Obispo residence year 1866, age 36, attorney.
[S589] Newspapers Publisher Extra, online newspapers.com, San Francisco Examiner (San Francisco, California) 6 Aug 1884, p 1.
[S419] FindAGrave, online FindAGrave.com, Find A Grave, database and images (https://www.findagrave.com : accessed 31 January 2018), William James Graves
Birth 10 Jan 1830 Pittsylvania County, Virginia, USA
Death 2 Aug 1884 San Luis Obispo, San Luis Obispo County, California, USA
Burial Old Mission Cemetery San Luis Obispo, San Luis Obispo County, California, USA
Plot 78, Row 18, section E
Memorial ID 73469131.