Jane Jett Graves
#604, b. 8 June 1827, d. 31 December 1876
     Jane Jett
Graves
was born on 8 June 1827
Pittsylvania County, Virginia
. She was the daughter of
William

Graves
and
Lucy

Berger
. Jane and
William

Glover
, son of
Philip

Glover
and
Sarah

Koontz
, were married 17 October 1843
Montgomery County, Missouri
.
1
Jane died 31 December 1876 , Marion County, Oregon at age 49 and was buried on 12 January 1877
Miller Cemetery, Marion County, Oregon
,
There is a story that she was buried with one of the Palmer children in Gibson Cemetery, but the graves have been removed to other cemeteries. She died in 1876, he in 1892, yet their markers are clearly "mates." Could she have been moved to Miller Cemetery after his death? Or, could this be a cenotaph?
2
     Jane and her sister
Catherine
were probably sent to school before 1841
St. Louis, Missouri
.
The family story is that due to the early death of their mother, in 1837, Jett and Catherine were sent to some kind of boarding school. The extremely brief mention of Jette and Catherine in their cousin David's book indicates they weren't around the neighborhood as the boys were. There is no documentation of this to date, other than the "family tradition" that John Henry Palmer met Catherine when "she was at boarding school in St Louis." A study is currently underway to determine which of the many "girls' schools" in the St Charles and St Louis areas may have been chosen.
3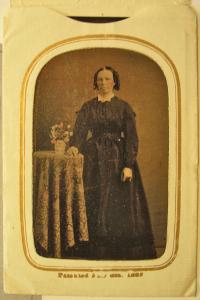 Citations
[S319] Dorothy G Jacobson, Genealogical Material in Oregon Donation Land Claims (Portland, OR: Genealogical Forum of Portland, Oregon, 1959, 1957).
[S419] FindAGrave, online FindAGrave.com, MEMORIAL ID 63691458.
[S301] David William Graves. David William Graves (1837-1918), Autobiography, 1916, C158, Western Historical Manuscript Collection, Ellis Library, University of Missouri, Columbia, Missouri.