Catherine Nowlin Graves
#398, b. 1 July 1825, d. 19 November 1907
     Catherine Nowlin
Graves
was born on 1 July 1825
Pittsylvania County, Virginia
. She was the daughter of
William

Graves
and
Lucy

Berger
. Catherine and
John Henry

Palmer
, son of
Burton

Palmer
and
Rebecca

Bruce
, were married 31 August 1841
Montgomery County, Missouri
.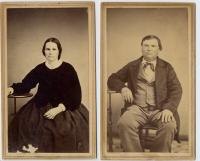 Catherine Nowlin Graves died 19 November 1907, in Lebanon, Linn County, Oregon at age 82 years, 4 months and 18 days and was buried
Miller Cemetery, Marion County, Oregon
.
Catherine N. Palmer
Born in Virginia July 1, 1825
Died Nov. 19, 1907.
     Her married name was Catherine Nowlin Palmer (Graves).
Catherine and her sister
Jane
were probably sent to school before 1841
St. Louis, Missouri
.
The family story is that due to the early death of their mother, in 1837, Jett and Catherine were sent to some kind of boarding school. The extremely brief mention of Jette and Catherine in their cousin David's book indicates they weren't around the neighborhood as the boys were. There is no documentation of this to date, other than the "family tradition" that John Henry Palmer met Catherine when "she was at boarding school in St Louis." A study is currently underway to determine which of the many "girls' schools" in the St Charles and St Louis areas may have been chosen.
1
According to the archivist at the monestery,Catherine and
John
"planted fruit trees immediately upon their arrival."
Catherine and
John
obtained a Donation Land Claim on 1 May 1866
Mt. Angel, Marion County, Oregon
.
The abstract of the DLC application notes:
"No. 1870 PALMER, John H., Marion Co; b 1818 Garrard Co, Ky; Arr. Ore. 2 Sept 1853; SC [settled claim] 23 Sept 1853; m Catharine N. 31 Aug 1841, Montgomery Co, Mo. Aff: Benj. Cleaver, John W Cleaver, Robert Scott, James McPhearson."
It's interesting that neither of the near relatives, Catharine's brother Jack Graves, or her brother-in-law William Glover signed the affidavit here. They were said to have had something to do with "saving" the land for them.
Patentees: CATHARINE N PALMER, JOHN H PALMER
Survey State: OREGON
Acres: 290
Metes/Bounds: No
Title Transfer Issue Date: 5/1/1866
Land Office: Oregon City
Cancelled: No
U.S. Reservations: No
Mineral Reservations: No
Authority: September 27, 1850: Oregon-Donation Act (grant) (99 Stat. 496)
Aliquot Parts Sec./ Block Township Range Fract. Section Meridian State Counties Survey Nr.
SWSE 3/ 6-S 1-W No Willamette OR Marion
E½E½ 10/ 6-S 1-W No Willamette OR Marion
SWSW 11/ 6-S 1-W No Willamette OR Marion
1 10/ 6-S 1-W No Willamette OR Marion
Remarks: LOT 1 OR NWNE QUARTER
2 10/ 6-S 1-W No Willamette OR Marion
Remarks: LOT 2 OR SWNE QUARTER.
Catherine received the following letter from her brother in San Luis Obispo, California, William J Graves
San Luis Obispo, Sept 20, 1872
My dear Sister
Day before yesterday I received a letter from you the first and only since I have received for years. I am truly sorry to hear of your poor health but sincerely hope that by this time you will have entirely recovered. Like you, dear sister, I feel myself getting old and rapidly passing into the "sere and yellow leaf." But unlike you, I cannot have the secret consciousness of having done my duty and my whole duty here upon earth. You undoubtedly have this consciousness and whatever may late[?] be your reward will be found in that "bourne [from] whence no traveller returns,"* while I, as to myself, I shall ever be enshrouded with doubts and misgivings that are always caused by regret of opportunities, evil actions, and vicious intentions.
I wrote you, I believe, that I had been corresponding with the Nowlin girls. I have not yet saw them and am now almost ashamed to meet them. I promised them while in San Francisco to go up to Tuolomne County and visit them, and almost daily, for a couple of weeks I was promising them to go "tomorrow, tomorrow, and tomorrow," and finally I did not go at all. The fact was that I was distressed almost to death while in San Francisco on account of some cases that I have in the courts which I as well as my clients were exceedingly anxious to try, and which finally were not tried, or at least all of them, making it necessary for me to return again to San Francisco during the latter part of this month.
On account of these legal matters I really had no time to go to Sonora. Besides this, my son William had to be sent to Va and I was considerably exercised in getting him away properly. These excuses I must make to the Nowlin pack[?] and will do so now that I go to San Francisco again, and that too in person as I am bound to go up and see them. I expect to bring Fannie down here with me if [she] is not bent on returning to Missouri too speedily. I have not heard from Nick for some time. Tom writes frequently but as Nick is some distance from him I do not believe he has seen him for some time. Tommy's health is very poor and I have written advising him to come to California. You can see by the picture that he is very thin. I am fearful that he is consumtive. My son Wm is in Old Virginia and has been stopping at David's. He is much pleased with is reception by our relatives. He is going finally to the Military Institute at Lexington Va which is thought to be the best school in the State.
By the way, you have no idea that I weight 240 pounds. It is [s??].
My wife is going to San Francisco to live in about a month. She is taking this step on account of the girls Lucy and Virginia who must be at School. They are very lively girls. They speak English, Spanish and French and are very quick to learn. I now want them to finish off with music and something more ad[??] in the way of education than they can find here. Ernest is studying law in my office. he is a very promising young man, so considered. I have not educated him as well as I desire, in fact his education has been neglected. But he is going along splendedly.
I have not heard from Jett in a long time and I fear she and Bill have almost forgotten me. Tell them they should write oftener as they have no Children and the accompanying [aundgamees]. I hardly know what to say about visiting you. I dread that awful Columbia Bar so much that I greatly prefer going by land. I promise you however that it will not be long before you see me [waiting (waltzing) aw nfew you] some bright morning. When my wife is established in San Francisco you must come down and pay us a visit. So must Jett. When you write again, which you must do very soon, tell me more about the children. What has become of my friends the girls. Tell me all about them. Dont fail to send your picture. Tom's in Ehrenburg, Arizona. Now do write often. Remember me most kindly to John and all the children, also to Bill and Jett; also to Jack and Sister Maria and their Children.
Your Brother,
William J Graves
* from Shakespeare, a "bourne" is an archaic term for a destination.
2
On 24 March 1894, Catherine Nowlin Graves resided
Mt. Angel, Marion County, Oregon
, according to the probate papers of her late husband, John Henry Palmer.
3
Catherine Nowlin Graves and
John Henry

Palmer
arrived in Oregon September 2, according to the Donation Land Claim, which probably means they arrived at Oregon City, to put in their claim, or Graves Butte, by that date. The Indian Agent at the Utilla Indian Agency (near today's Echo, Oregon) kept a log of the immigrants as they passed through the area. The train, as it passed the agency on 15 August, consisted of 130 people, 53 men, 21 wives (one fellow had two wives) and 56 children. Included were: Graves, T. and Palmer, J., w, 3s, 2d.
Based on the "journal" of Benjamin Cleaver in 1848, and other contemporary records, it may be expected that they left Independence or St Joseph around 24 April 1853.
September 7, 1848, B Cleaver is at Laurel Hill (the Barlow Trail), 3 September 1853, J and C Palmer "arrive in Oregon" but have been in Oregon since 15 August when they are counted at the Utilla Indian Agency (Echo) Oregon. Henry Laramie was born in or near Fort Laramie 5 Jun 1853, Benjamin Cleaver was "at Fort Larama" 8 June.
Backing up, Benjamin left St Joseph 27 Jun, so the Palmers must have been on the road that week or the week before (depending on how long they stayed at Fort Laramie.)
4
Children of Catherine and John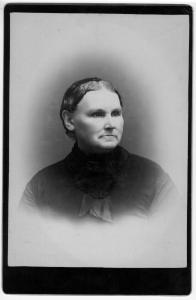 THE MORNING OREGONI AN. WEDNESDAY, NOVEMBER 27, 1907, p 6