Nellie Pearl Palmer1
#366, b. 9 March 1889, d. 6 August 1980
     Nellie Pearl
Palmer
was born on 9 March 1889
Elk City, Lincoln County, Oregon
, was Benton County in 1889. Her birthday was always celebrated on the 9th, but, from Benton Co. Oregon Delayed Birth Certificate, the birthdate is listed as 07 March.
2,3
She was the daughter of
Henry Laramie

Palmer
and
Charlotte Ellen

Parks
. Nellie married
Oscar William

Dunford
26 May 1911
Ashland, Jackson County, Oregon
, "Oscar W Dunford of Jacksonville and Miss Nellie Palmer of Ashland were married by the Rev. Mr. Herrold, of Salem, at the home of the bride's sister, Mrs. H J Boyd, in Ashland. They will live in Jacksonville."
4
Nellie Pearl Palmer died 6 August 1980, in Nogales, Arizona at age 91 years, 4 months and 28 days, Cause of death, Immediate, cardio-respiratory arrest, as a consequence of chronic dehydration and organic Brain syndrome. Also Urinary infection, early renal failure with edema.
5
and was cremated; her cremains were returned to the family plot at the Pioneer Cemetery, Jacksonville, Oregon.
     She was graduated from Southern Oregon Normal School in 1909 Ashland. She was a teacher and taught at "Foots Creek" (Goldhill) all grades, before teaching in Jacksonville. circa 1910.
Child of Nellie and Oscar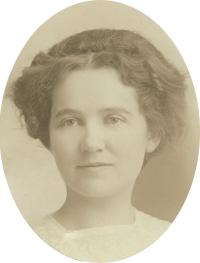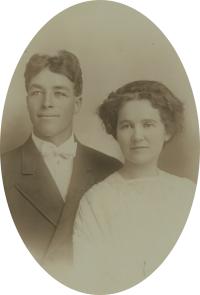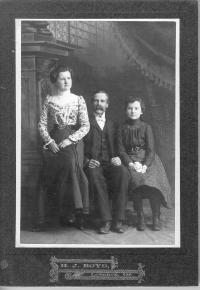 Henry Laramie Palmer with daughters Nettie, left, and Nellie, right. Probably taken around 1896.