Catherine Nowlin Graves
#398, b. 1 July 1825, d. 19 November 1907
     Catherine Nowlin
Graves
was born on 1 July 1825
Pittsylvania County, Virginia
. She was the daughter of
William

Graves
and
Lucy

Berger
. Catherine and
John Henry

Palmer
, son of
Burton

Palmer
and
Rebecca

Bruce
, were married 31 August 1841
Montgomery County, Missouri
.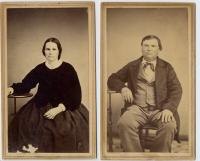 Catherine Nowlin Graves died 19 November 1907, in Lebanon, Linn County, Oregon at age 82 years, 4 months and 18 days and was buried
Miller Cemetery, Marion County, Oregon
.
Catherine N. Palmer
Born in Virginia July 1, 1825
Died Nov. 19, 1907.
     Catherine and her sister
Jane
were probably sent to school before 1841
St. Louis, Missouri
.
The family story is that due to the early death of their mother, in 1837, Jett and Catherine were sent to some kind of boarding school. The extremely brief mention of Jette and Catherine in their cousin David's book indicates they weren't around the neighborhood as the boys were. There is no documentation of this to date, other than the "family tradition" that John Henry Palmer met Catherine when "she was at boarding school in St Louis." A study is currently underway to determine which of the many "girls' schools" in the St Charles and St Louis areas may have been chosen.
1
According to the archivist at the monestery,Catherine and
John
"planted fruit trees immediately upon their arrival."
Catherine and
John
obtained a Donation Land Claim on 1 May 1866
Mt. Angel, Marion County, Oregon
.
The abstract of the DLC application notes:
"No. 1870 PALMER, John H., Marion Co; b 1818 Garrard Co, Ky; Arr. Ore. 2 Sept 1853; SC [settled claim] 23 Sept 1853; m Catharine N. 31 Aug 1841, Montgomery Co, Mo. Aff: Benj. Cleaver, John W Cleaver, Robert Scott, James McPhearson."
It's interesting that neither of the near relatives, Catharine's brother Jack Graves, or her brother-in-law William Glover signed the affidavit here. They were said to have had something to do with "saving" the land for them.
Patentees: CATHARINE N PALMER, JOHN H PALMER
Survey State: OREGON
Acres: 290
Metes/Bounds: No
Title Transfer Issue Date: 5/1/1866
Land Office: Oregon City
Cancelled: No
U.S. Reservations: No
Mineral Reservations: No
Authority: September 27, 1850: Oregon-Donation Act (grant) (99 Stat. 496)
Aliquot Parts Sec./ Block Township Range Fract. Section Meridian State Counties Survey Nr.
SWSE 3/ 6-S 1-W No Willamette OR Marion
E½E½ 10/ 6-S 1-W No Willamette OR Marion
SWSW 11/ 6-S 1-W No Willamette OR Marion
1 10/ 6-S 1-W No Willamette OR Marion
Remarks: LOT 1 OR NWNE QUARTER
2 10/ 6-S 1-W No Willamette OR Marion
Remarks: LOT 2 OR SWNE QUARTER.
Catherine Nowlin Graves and
John Henry

Palmer
arrived in Oregon September 2, according to the Donation Land Claim, which probably means they arrived at Oregon City, to put in their claim, or Graves Butte, by that date. The Indian Agent at the Utilla Indian Agency (near today's Echo, Oregon) kept a log of the immigrants as they passed through the area. The train, as it passed the agency on 15 August, consisted of 130 people, 53 men, 21 wives (one fellow had two wives) and 56 children. Included were: Graves, T. and Palmer, J., w, 3s, 2d.
Based on the "journal" of Benjamin Cleaver in 1848, and other contemporary records, it may be expected that they left Independence or St Joseph around 24 April 1853.
September 7, 1848, B Cleaver is at Laurel Hill (the Barlow Trail), 3 September 1853, J and C Palmer "arrive in Oregon" but have been in Oregon since 15 August when they are counted at the Utilla Indian Agency (Echo) Oregon. Henry Laramie was born in or near Fort Laramie 5 Jun 1853, Benjamin Cleaver was "at Fort Larama" 8 June.
Backing up, Benjamin left St Joseph 27 Jun, so the Palmers must have been on the road that week or the week before (depending on how long they stayed at Fort Laramie.)
2
Children of Catherine and John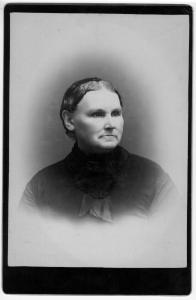 THE MORNING OREGONI AN. WEDNESDAY, NOVEMBER 27, 1907, p 6