Richard Burton Fentem
#578, b. 28 July 1848, d. 5 December 1932
     Richard Burton
Fentem
was born on 28 July 1848. He was the son of
Richard

Fentem
and
Clarissa

Palmer
. Richard and
Perthana

South
were married say 1875. Richard and
Susan Ellen

Clare
were married 22 September 1885 according to Johnny. Richard Burton Fentem died 5 December 1932, in Newman, Stanislaus County, California at age 84 years, 4 months and 7 days.
1
     He lived
Hills Ferry, San Joaquin County, California
, in 1883.
Richard B Fentin, 30, farmer, b MO, fb England, mb Kentucky, is in Stanislaus County, CA in 1880. Wife is Perthana, 32, b Missouri, fb "don't know", mb "don't know." Children are Wasser B, 4, and Roy Alba?, 2, both b California.
In 1883 letters from Clara (Palmer) Fentem to John Henry Palmer, from Hill's Ferry, San Joaquin County, California, she refers to Burton, married, with two sons. These would be the sons.
In 1900, Richard and new, younger wife, Ella S, (38) are in Merced, with Roy A, now 22, other children Bessie L, 13, Hiram P, 9, alton C, 7, and Benj F, 4.
In 1910, R. B., (61), Susan E. (46), and children Roy A, Bessie, Hiram, Alton, Benjamin, and Elburta, are on the census.
In 1920, Roy A, wife Irene (then 34), have a daughter, Mabel A., 17. Still in Merced county.
DC for Roy Albro Fentem, 559099007
b 31 May 1878 in California
DoD 2 Nov 1940, Merced, CA
Mother's Maiden Name: South
1860 census has
Parthenia South, Millwood, Lincoln, MO, b ca 1847
Father John, 58
mother Eliz, 34
siblings
Albro W South, 21
Arethusa, 16.
RICHARD B. FENTEM.
The founder of the Fentem family in the United States was an English merchant bearing the name of Richard Fentem, who brought his family across the ocean to America and settled in Missouri. From that time until death ended his activities he engaged in merchandising in addition to cultivating a farm in Lincoln county. His son and namesake, who was born at Manchester, England, learned the carpenter's trade and for years followed the building business, but eventually engaged in the raising of stock and grain, continuing to reside in Lincoln county until his death in 1862. Years afterward his widow died at the home of her son, Richard B., in California, when seventy-seven years of age. A native of Kentucky and bearing the maiden name of Clarissa Palmer, she was a daughter of Burton Palmer, a Virginian, for some time resident in Kentucky, but later a farmer in Missouri.
In the family of the second Richard Fentem there were twelve children, of whom several daughters and one son attained mature years, and five daughters and the son still survive. The latter, who was given the name of his father and grandfather, forms the subject of this article. He was born near Troy, the county-seat of Lincoln county. Mo., July 28, 1848, and was the youngest in the large circle of children. The district schools and Troy Seminary gave him fair educational advantages. After leaving school he engaged in trading in stock for a year, but malaria had seriously affected his health and a change of climate was rendered imperative. Hoping to be benefited by the change, in 1869 he came to California, arriving at Stockton in September and without delay securing employment on a ranch. In January, 1870, he bought a flock of sheep and embarked in the sheep business in the San Joaquin valley, where he bought a ranch of four hundred and eighty acres on Orestimba creek.
For some time he was extensively engaged in raising sheep, but in 1878 sold off his entire flock and turned his attention to grain farming on the west side. Buying four hundred acres four miles south of Newman, he engaged in its cultivation with gratifying success. On disposing of that property, in 1892 he bought forty acres at the corner of the Hill and Creamery roads, which being under the ditch furnishes an excellent location for the raising of alfalfa. The residence and barns were erected by the present owner, a wind mill has been put jn and other improve ments made. About fifty head of high-grade Short-horn, Durham and Holsteins may be seen on the place and twenty-five of these are milch cows, for the dairy industry is one of his principal interests. On the inception of a plan to establish a creamery he aided the enterprise and bought stock in the New Era, which was the first creamery built in the valley and proved a success from the start. As a member of the first board of directors he was instrumental in planning a policy that brought success to the creamery company and encouraged the establishment of similar plants throughout the valley. Besides his home place he has three hundred and twenty acres on the west side of the canal, which is excellent grain land and will be under the new Sunset canal. While his interests are largely connected with those of the agricultural community of Stanislaus county, his home place lies in Merced county, just across the line from Stanislaus, two and one-half miles south of Newman. Under his control at this writing there are twelve hundred and eighty acres, the care of which demands his entire attention, making him one of the busiest ranchers in all this region.
Two sons (Warner, who died here, and Ray, a farmer of this locality) were born of the rnarriage of Mr. Fentem and Miss Thane South, who was born in Pike county. Mo., and died at their California home. After her death Mr. Fentem was united in marriage with Miss Ella Clare, who was born in Lincoln county. Mo., and remained there until after her marriage. She is a daughter of Frank Clare, an agriculturist through all of his active life, but now taking the rest to which his four score years entitle him. In the family of Mr. and Mrs. Fentem there are five children, namely: Bessie, a student in the San Jose high school; Hiram, Alton, Benjamin and Elberta. The family are members of the Cumberland Presbyterian Church, in which Mr. Fentem officiated as ruling elder and clerk for about twenty-four years and also held the office of Sunday school superintendent. In political views he favors the principles of the Democratic party.
Guinn, J. M.
History of the State Of California and Biographical Record of the San Joaquin Valley, California.
The Chapman Publishing Co. Chicago, 1905. P 54.
Children of Richard and Susan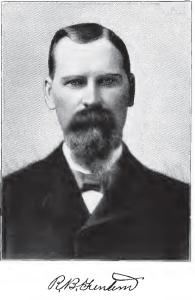 Citations
[S35] State of California. California Death Index, 1940-1997, accessed from Ancestry.com.