Thomas J. Davis1
#1112, b. circa 1856, d. 2 November 1950
     Thomas J.
Davis
was born circa 1856
Illinois
. Thomas and
Martha

Palmer
, daughter of
John Henry

Palmer
and
Catherine Nowlin

Graves
, were married 20 November 1878
Marion County, Oregon
, Thomas J Davis, over 21 & Martha Palmer, over 18, m 17 Nov 1878 at house of John H. Palmer; Benj. Cleaver, J. P. Wit: John P Graves & C. P. Glover #2233 pg 515.
Interesting that on sister Brunetta (Palmer) McKee's marriage to Monroe Cleaver, 21 Mar 1880, the witnesses were M Palmer and T J Davis.
2
Thomas and
Emma M

(--?--)
were married 1884. Thomas J. Davis died 2 November 1950, in Silverton, Marion County, Oregon.
3
      After Mattie's death, Thomas married Emma (--?--). They had three boys, according to census accounts and death records: Lester and Lloyd about whom I know nothing, and Gaylord Claude, who moved to Texas and was a musician. He died in 1979.
Children of Thomas and Emma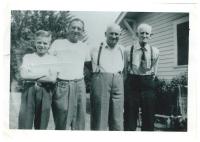 Gaylord (Butch), Harold L, Henry E, Thomas J Davis, c 1945
Citations
[S144] John Henry Palmer, Probate -- John H Palmer 1498, Oregon State Archives, Salem, Oregon, # 1498.
[S448] Jeanne and Daraleen Wade Custer, compiler, Marriage Records of Marion County, Oregon, Vol 3, 1874-1879 (Salem, Oregon: Willamette Valley Genealogical Society, 1980), p 43.
[S419] FindAGrave, online FindAGrave.com, Find A Grave Memorial# 6465771.