Ann Elizabeth Trent1
#3813, b. 17 September 1822, d. 15 August 1823
     Ann Elizabeth
Trent
was born on 17 September 1822.
1
She was the daughter of
Dr. William Alexander

Trent
and
Judith Clough

Anderson
.
1
Ann and
John

Rakestraw
were married circa 1842.
2
Ann Elizabeth Trent died 15 August 1823.
1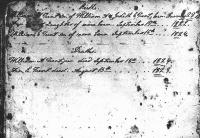 Her married name was Rakestraw (Trent).
Citations
[S232] Anderson, Cocke, Coupland, Gannaway, Harris, Harrison, McClung, O'Sheal, Trent, Wilson Deane, Trent family Bible record, 1749-1903, digital image (Richmond, VA: Library of Virginia, 1817); Unknown, Library of Virginia, Richmond, Virginia.
[S6] 1850 US Census Population Schedule, Washington, District of Columbia, US National Archives, Year: 1850; Census Place: District 2, Hopkins, Kentucky; Roll: M432_205; Page: 140A; Image: 284.