Alma Grace S Ruble
#1125, b. September 1877, d. 25 October 1959
     Alma Grace S
Ruble
was born in September 1877
Michigan
. Alma and
Ernest Stephen

Palmer
, son of
Marion

Palmer
and
Josephine E

Porter
, were married 5 December 1899 E. Palmer, over 21, & Alma Grace Ruble, over 18, m 5 Dec 1899 at house of R. C. Ruble by R.C. Ramsby, J.P. Aff: Charles Long. Wit: Florence Brown & John Blair. #5783 pg 469.
1
Alma Grace S Ruble died 25 October 1959, Linn County, Oregon at age 82 years and 1 month and was buried
Miller Cemetery, Marion County, Oregon
.
     ( Elma Grace.) As of circa 1900, her married name was Palmer (Ruble).
Grace A Palmer, 62, widowed, born in Michigan, is running a boarding house in Corvallis. With her are son, Clare B. 27, daughter Barbara J, 16, Donna C, granddaughter, 4. Also, Opal R Connor, a maid, is in the household. Clare is listed as "M" but it has been crossed through.
Interestingly, Grace's occupation is "housewife" in a "rooming boarding house." Clare is a cement mixer for a construction company.
We do not find Joan Catherine Palmer.
A bit of interesting information is that Grace Ruble's father was born in Canada, her mother in Indiana. Grace was married at age 22.
2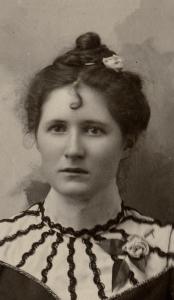 Citations
[S453] Ann & Dora Bash Hochspier, compiler, Marriage Records of Marion County, Oregon, Vol 9, 1897-1900 (Salem, Oregon: Willamette Valley Genealogical Society, 1991).
[S428] 1940 US Census Population Schedule, Washington, District of Columbia, Population Schedule, US National Archives, Census Place: Corvallis, Benton, Oregon; Roll: T627_3353; Page: 10A; Enumeration District: 2-11.
[S165] Tombstone.