Caleb Richardson1
#1835, b. 1799, d. 28 September 1870
     Caleb
Richardson
was born in 1799
Virginia
. He was the son of
William

Richardson
and
Jane

Bobbitt
. Caleb and
Celia

Humphries
, daughter of
George

Humphries
and
Charlotta

(--?--)
, were married 29 January 1818
Pulaski County, Kentucky
.
2
A marriage bond was filed for Caleb and
Celia

Humphries
dated on 2 February 1818
Pulaski County, Kentucky
. The bond was signed by There is a marriage bond dated 2 Feb 1818 for Sealy Humphreys and Caleb Richardson (as transcribed), consent of his mother, Jane Richardson, and of her father, George Humphries. Boler Humphries surety for the bond (1).
A copy of a list of marriage returns, by marriage date has (handwritten) Cabel Richardson and Selay Musshras, 29 January 1818. (2.)
3,4,2
Caleb Richardson died 28 September 1870, in Liberty, Tipton County, Indiana at age 71 years.
5
He died 18 May 1870 at age 71 years, according to garymurrell@yahoo.com. He was buried
Richardson Cemetery, Sharpsville, Tipton County, Indiana
.
5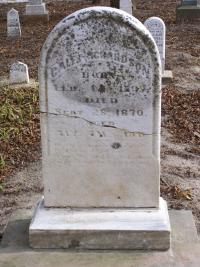 He left a will on 18 May 1870
Tipton County, Indiana
,
Bequests:
"beloved wife Celia Richardson have one third of estate both real and personal...
"three grandchildren, Jasper, Helen & Georgia Richardson, heirs of my beloved son Johnathan..one hundred dollars each...
"son Stephen, five dollars...
"remainder be equally divided beween my children to wit except my son Calib Richardson who is to have an amount equal to two of the others..MaryWilliam, Charlott Jane Cintha George John James Joel Andrew J [Emetine]and Strange Richardson that said the amount of property to be divided equally between the above [ ] children except Calib who is to have an amount equal to two of the others..."
The will was under seal and opened and read 3 Oct 1870.
6
Some of the children, quoted in
Early Life and Times in Boone County, Indiana,
had this to say. I have broken the article into more paragraphs, for the sake of readability.
     p 24
Marion Township occupies the north corner of the County. It is bounded on the east by Hamilton County, on the south by Union, on the west by Clinton Township and on the North by Clinton County. It contains forty-six sections....Big Springs, on the line between Marion and Union, is the principal trading place and postoffice, and has been for many years. the township originally was covered with the finest growth of timber, and that of the best and most valuable kinds, such as poplar, oak, walnut and ash.. . .Among the first to move in this township were Edward Jackson and Caleb Richardson, who came in 1831, settled on Big Eagle, followed soon after by William and John Parr. Alfred Srite, William Lane and Lewis Harris settled in the south part of the township in 1833. In the spring of 1834 came Mr. Turpin, John Burns, Milton Hickson.      
     p101
Communication from James A. Richardson
I was born in Owen County, Indiana, on March 17, 1827. My father moved to Boone County on the 31st of February, 1837, and this county has been my home since....The few settlers that lived in this neighborhood lived in log cabins, in the woods with a small patch of ground partially cleared. The manner of clearing in those days was to grub the small bushes and chop the small trees and logs with axes. Piling them up in large heaps they would be left to dry until they could be burned. After deadening the remainder of the trees the fields then looked more like woods than cornfields. This however, was the best we could do, as to have chopped down all the trees in this thick forest with its unditched and overshaded land would have been an impossibility. We had no implements but the maul, wedge, Carey plow, and the old-fashioned single shovel plow. The Carey plow as very scarce then, not being more than one to every half-dozen settlers. Such a thing as a carriage or buggy was never heard of.     
We lived on corn bread, hog, hominy, potatoes, pumpkins and wild game. There was an abundance of small game, such as deer, wild turkey, pheasants, quails, raccoons, opossums, grey squirrels and rabbits. There was an old water mill on Eagle Creek that ground a little corn meal in the rainy part of the year, but it being very slow was not to be depended upon. A hungry hound could have eaten the meal as fast as it was ground. We carried our corn on horseback to Dye's and Sheets' mills. The distance was eight and eleven miles. In a few years we raised a little wheat which we had to take to Indianapolis to get ground for flour.      
As for market, what wheat and hogs we raised we took to Lafayette, on the Wabash, or to the Ohio River. The price of wheat in those days was from forty to fifty cents per bushel. The hogs were sold to hog merchants, who bought as large droves as they could buy. The price the settlers received was from $1.50 to $2.50 per 100 pounds. We had to have some things, such as salt, leather and spun cotton for chair for jeans and linsey. Those articles were indispensable, and if they could not be had any other way the deer and raccoon skins were resorted to to supply the want.      
The women spun the wool, wove the jeans and made by hand all the clothing the men wore in the winter, and spun flax and tow and wove into linen which they made into shirts and pants for their summer wear. There was but little dress goods bought in those days. All this work the fair ones had to do without the aid of machines save the big and little wheels and hand looms.      
There was not a cook-stove, sewing machine nor washing machine for ten or fifteen years after the first settling of what is known as the Big Spring neighborhood. The women had to do their cooking by the fireplace, and one room was parlor, sitting-room, bedroom, dining-room and kitchen. I'm of the opinion that if the women to-day had to go back and endure the privations of that time there would be some bloody snoots and black shins.      
We had to cut our wheat with the sickle and threshed it with the flail or tramped it off on a dirt floor with a horse in the field on the ground. To separate the wheat from the chaff, we made wind with a sheet in the hands of men, one at each end to riddle the downs to them. We cut our meadows with the poorest kind of scythes; I think they were all of iron with a crooked stick fastened to them. We had no steel pitch-forks in those days, but had to go to the woods, hunt out forked bushes and peel them to handle our hay with. We did not raise a great amount of hay.      
Our stock cows lived most of the winter without hay. Cattle and sheep were very unhealthy at that time. The cattle died with what was called bloody murain or dry burain; but it is now thought to have been leeches that were in the sloughs and ponds. The sheep died from eating wild parsnips which brew abundantly in the low, wet land. Hogs did well, living almost the year round without corn. Just enough was given them to keep them from growing wild. There were a great many wild hogs in the woods at that time.      
We had no school houses and no churches. The first school house in the neighborhood was build on the land of Jonathan Scott, on the east bank of Eagle Creek, one quarter of a mile west of the little village of Big Spring. This house was built about the year 1838. The first church organization was a class of the M. E. Church about the year 1837. In the summer or fall of that year the class was organized at Caleb Richardson's, and for a few years most of their meetings were held there and at John Parr's. Finally their society grew strong enough to build, which they did about the year 1840. They gave it the name Big Spring. This name was given it because of its nearness to a very large spring of water. This church was a large and commodious hewed log building and served a good purpose as a church until the year 1866, when it was superseded by a neat frame building, which stands there to-day.      
But where are the old pioneers who broke the first sod, cleared the brush, felled the large oaks and built the first school houses and churches? They are all gone except two that I know of, and those are old Uncle Johnny Parr and old Aunt Anna Richardson.
7
From
Counties of Howard and Tipton, Indiana, Historical and Biographical

P 157
Caleb Richardson and his wife Celia came from Boone County and pre-empted what is still known as the old Richardson homestead in 1845. Unto them were born sixteen children, fifteen of whom lived to have families of their own. Their names, although not in order of their ages were William, Charlotte, Jane, George, James, Stephen, Jackson, Strange, Caleb, Emeline, Cynthia, John, Joel, Mary Ann, Jonathan, and Francis Marion, the last dying when he was an infant. Mr. Richardson died several years ago, but Aunt Celia is still living. She is now about seventy-seven years old, and has seen all her children buried but five. Richardson was one of the first settlers in his neighborhood. His house was a home for the traveler and the land seeker. He was founder of Methodism in this part of the county. For several years his house was the place of meeting. He helped establish the Pleasant Grove Association, and with David and P. Hutto built the Pleasant Grove Meeting House. His infant child, Francis Marion, was the first child to be buried in the Richardson Graveyard. A remarkable fact connected with the history of this graveyard is that there were sixteen children buried in it before any grown person.
p 162
the Methodist Episcopal Church oat Sharpsville was organized in the fall of 1852, by Rev. Hopkins, who was preacher in charge of the Normanda Circuit. The first class was composed of the following members: Madison Grishaw, America Grishaw, James Comer and wife, Washington Grishaw, Caleb Richardson and wife, George Richardson and wife, Callaway pierce and wife, V. C. Wisner, and a few others whose names cannot now be ascertained...
p 170
..The oldest record that can be found at the courthouse shows that Richard Humphries was elected Justice of the Peace August 27, 1845, and qualified December 12, 1845, with the following sureties: Jesse Harding, David Humphrey, Willis Ball, and Caleb Richardson.
8
Children of Caleb and Celia