Jacob Berger
#834, b. 21 December 1745, d. 25 January 1837
     Jacob
Berger
was born on 21 December 1745
Germany
. He was the son of
Jonathan

Berger
. Jacob and
Christianna

(--?--)
were married before 1775. Jacob Berger died 25 January 1837, Pittsylvania County, Virginia at age 91 years, 1 month and 4 days and was buried
Berger Cemetery, near Toshes, Pittsylvania County, Virginia
. Berger, Jacob b 1745 (in Germany) buried near Siloam Church Toshes. The grave was marked by the William Pitt DAR.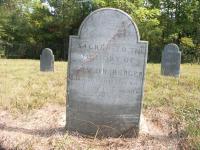 He has been assigned DAR Record Number: Patriot: BURGER, JACOB (A017187.) He served
Chief Wagoner, Service of Supply; Continental Line
under George Washington.1
Among the later Pennsylvania emigrants were George Craft, a man of means who settled on the Pigg River Road (near Climax), building a handsome brick home; John Schelhausen, a German, whose name has been Americanized to Shelhorse; and Jacob Berger, whose headstone records that he was born in Germany. The latter settled on Frying Pan Creek and his old home "Clifton" stands today, overlooking the stream.
2
There are issues with his birthdate and/or place. IF he was born in 1745, his father, Jonathan, either immigrated much later than 1740, as he was noted to be a 12 year old boy, which would make his birth year 1728 or so. That would make his marriage to Christianna Crider when he was fifty or so. And, his service in 1775 or so, under George Washington, he would have been very old. He served as Chief Wagoner, Service of Supply, Continental Line, under George Washington.
3
Though Methodism found many followers in the County, it was not until 1823 that deeds were recorded for the erection of churches. In that year Nathaniel Wray made a deed of gift of one acre to the Methodists for the building of a church. In 1827 Rawley Williamson Carter and his wife Anne gave a lot for the erection of a church, making the deed to the following trustees: Augustine H. Carter, Jeduthan Carter, Ira Ellis, Reuben Hopkins, William A. Lilly, Nicholas Ellis and John Pinnell. In the same year Robert Wilson and his wife Katherine gave'a lot for a church building "on the road leading from the Courthouse to Crafts." In 1830 Robert Devin and his wife Nancy gave one acre for the erection of a church to the following trustees: William, John, Henry, Joshua and Robert Pritchett, William Tarpley, John M. Inge and
T. C. Shelton
. In the year 1832 there were five Methodist churches built in the county. Waiter Fitzgerald gave one acre for the building of a church on the road leading from Pittsylvania Courthouse to Leaksville. Nathaniel Wilson and wife Winnefred gave a lot in Danville on the corner of Wilson and Lynn Streets, the church to face on Wilson Street. Nathaniel and James Sutherlin, attorneys for Adams Sutherlin, gave a lot for a church building on the head waters of Sandy Creek. John Ware and Elizabeth,
9
his wife, gave land for a church, "on the north side of the public road below Bachelor's Hall," naming as Methodist trustees, George Wilson, Robert Wilson, George Adams, Samuel Hairston, Joseph Perkins, Henry Serjeant and William Dupuy.
George Tosh
and Katherine his wife gave one acre for a Methodist church "on the road leading from
Samuel Berger
's store to
Daniel Crider
's mill," naming as trustees, David Berger, Thomas Wright, William Crider, John McCrickard and Robert Thurman.
4
"Berger - Jacob Berger, of Germany, came to America and settled first in Pennsylvania, but subsequently removed and settled in Pittsylvania Co., VA. His sons were -- William, Jacob, George and John; and he had several daughters whose names we could not obtain. William was killed in the war of 1812, having volunteered to serve in place of his brother George, who had been drafted, and who, being a married man, could not leave his family. George married Mary Boatright, of Virginia by whom he had -- Thomas A., Jacob, Louisa J., Lucy A., William J., Appalana F., Polly, David, Elizabeth, and Marialmnel. Jacob and Polly died young, in Virginia. The rest of the children came with their parents to Missouri in 1838, and settled in Montgomery county. Thomas married Ellen Stone, of Virginia. Louisa married Pleasant Davis, of Missouri. Lucy married Buckner Jefferson,of Missouri. Appalana married Erasmus McGinnis, of Missouri. Elizabeth married William Anderson.
(Note, Appalana is apparently the "Fanny" who married Erasmus McGinnis (p 279)).
5