Nellie Pearl Palmer1
#366, b. 9 March 1889, d. 6 August 1980
     Nellie Pearl
Palmer
was born on 9 March 1889
Elk City, Lincoln County, Oregon
, was Benton County in 1889. Her birthday was always celebrated on the 9th, but, from Benton Co. Oregon Delayed Birth Certificate, the birthdate is listed as 07 March.
2,3
She was the daughter of
Henry Laramie

Palmer
and
Charlotte Ellen

Parks
. Nellie married
Oscar William

Dunford
26 May 1911
Jacksonville, Jackson County, Oregon
. Nellie Pearl Palmer died 6 August 1980, in Nogales, Arizona at age 91 years, 4 months and 28 days, Cause of death, Immediate, cardio-respiratory arrest, as a consequence of chronic dehydration and organic Brain syndrome. Also Urinary infection, early renal failure with edema.
4
and was cremated; her cremains were returned to the family plot at the Pioneer Cemetery, Jacksonville, Oregon.
     ( As of 1889, Nellie.) As of 26 May 1911, her married name was Dunford (Palmer). In 1898, Nellie Pearl Palmerresided
Marion County, Oregon
.
5
In 1901, Henry gave guardianship of Nellie to Mary (Parks) and G W (Wash) Palmer in Jackson County, Oregon. I don't believe they were living there at the time, and that Nellie was living with Nettie and Henry J Boyd in Ashland. She was graduated from Southern Oregon Normal School in 1909 Ashland. She was a teacher and taught at "Foots Creek" (Goldhill) all grades, before teaching in Jacksonville. circa 1910.
Delinquent Taxes for Palmer, Nellie:
Beg 32 rds s
nw cor nw of nw quarter of sw 1/4
sec 33
e 30 rds, s 48 rds w 30 rds n 48 rds to beg. 9 acres in
section 33 t11S
;
r11W
And
beg 50 rds e of nw 1/4 of nw 1/4 of sw 1/4 section 33, e 10 rds, s 32 rds w 20 rds, n 16 rds, e 10 rds, n 16 rds to beginning, 3 acres, section 33 t11s; r11w.
This is, today, in the middle of a large wooded area a few miles south and east of Newport, near an airport, on a dirt track, near as I can tell. There are cabins nearby.
6
In 1918, Nellie Pearl Palmer and
Oscar William

Dunford
resided
McCloud, California
; Oscar William Dunford, 28
McCloud, Cal
DoB 1 Jan 1889
natural born citizen, Loop City, Nebraska.
Butcher, employed by the McCloud River Lumber Company, McCloud.
Dependents: wife and child.
Medium height, medium build, blue eyes, brown hair, no deficits.
7
The Jacksonville Post Friday, August 3, 1934
Local Happenings:
Mrs. Ike Dunford chaperoned a group of young people on a weekend trip to Crescent City. Included in the party were the Misses Frances Wakefield, Jessie and Doris Clark, LaVon [sic] Dunford, Harland Clark and Marion Smith. In 1937, Nellie Pearl Palmer and
Oscar William

Dunford
resided
Yreka, California
.
Child of Nellie and Oscar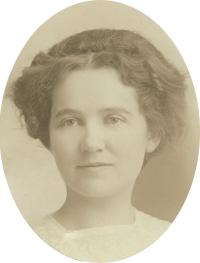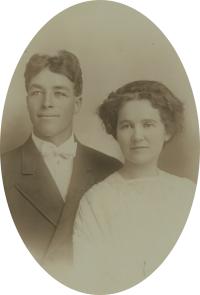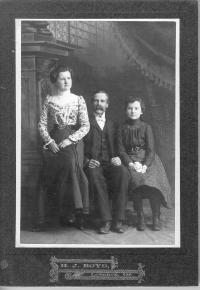 Henry Laramie Palmer with daughters Nettie, left, and Nellie, right. Probably taken around 1896.