John Henry Palmer1
#397, b. 2 November 1818, d. 1 March 1894
     John Henry
Palmer
was born on 2 November 1818
Garrard County, Kentucky
. He was the son of
Burton

Palmer
and
Rebecca

Bruce
. John and
Catherine Nowlin

Graves
, daughter of
William

Graves
and
Lucy

Berger
, were married 31 August 1841
Montgomery County, Missouri
.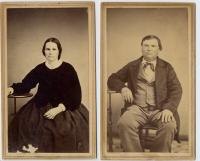 John Henry Palmer died 1 March 1894, in Mt. Angel, Marion County, Oregon at age 75 years, 3 months and 27 days. His estate was probated on 24 March 1894 He died intestate.
2
and was buried
Miller Cemetery, Marion County, Oregon
.
     According to the archivist at the monestery,John and
Catherine
"planted fruit trees immediately upon their arrival."
A note from the early librarian at the seminary in Mt. Angel noted that John Henry Palmer "bought squatter's rights to DLC on north end of Butte" on 3 September 1853. ("Graves Butte")
It is possible that one of Catherine's siblings, Jack Graves or Maria (Graves) Glover, had somehow laid claim to the land, although it was not part of either of their DLC claims. Otherwise, it is possible that someone who had come much earlier had placed a "pre-DLC" claim on the land, and John Henry was paying him off.
John and
Catherine
obtained a Donation Land Claim on 1 May 1866
Mt. Angel, Marion County, Oregon
.
The abstract of the DLC application notes:
"No. 1870 PALMER, John H., Marion Co; b 1818 Garrard Co, Ky; Arr. Ore. 2 Sept 1853; SC [settled claim] 23 Sept 1853; m Catharine N. 31 Aug 1841, Montgomery Co, Mo. Aff: Benj. Cleaver, John W Cleaver, Robert Scott, James McPhearson."
It's interesting that neither of the near relatives, Catharine's brother Jack Graves, or her brother-in-law William Glover signed the affidavit here. They were said to have had something to do with "saving" the land for them.
Patentees: CATHARINE N PALMER, JOHN H PALMER
Survey State: OREGON
Acres: 290
Metes/Bounds: No
Title Transfer Issue Date: 5/1/1866
Land Office: Oregon City
Cancelled: No
U.S. Reservations: No
Mineral Reservations: No
Authority: September 27, 1850: Oregon-Donation Act (grant) (99 Stat. 496)
Aliquot Parts Sec./ Block Township Range Fract. Section Meridian State Counties Survey Nr.
SWSE 3/ 6-S 1-W No Willamette OR Marion
E½E½ 10/ 6-S 1-W No Willamette OR Marion
SWSW 11/ 6-S 1-W No Willamette OR Marion
1 10/ 6-S 1-W No Willamette OR Marion
Remarks: LOT 1 OR NWNE QUARTER
2 10/ 6-S 1-W No Willamette OR Marion
Remarks: LOT 2 OR SWNE QUARTER.
"John Henry Palmer was born in the Dark and Bloody Ground in Howard [should be Garrard] County on the 2d of November, 1818. Early in his youth the family removed to Lincoln county, Missouri, where John Henry spent his boyhood days, attended the public schools, learned the blacksmith's trade and assisted his father in the conduct of the farm. In Montgomery county, Mo., August 31, 1841, he married Miss Catherine N. Graves, who was born in Virginia, July 1, 1825, and who was a sister of John P. Graves.
In 1853, John Henry Palmer crossed the plains with his family, arriving in Oregon, September 2, and secured the right to a claim in sections 3, 10 and 11, township 6 south 1 west, four miles north of Silverton, on which he settled in the month of his arrival. A part of this claim is now covered by the town of Mount Angel, the Palmer place running east of that town to the edge of the hill, which was then known as Lone Butte or sometimes as Graves' Butte. At the time of the settlement of the country around the Butte, that place was thickly infested with rattlesnakes and other varmints, principally coyotes.
On the 16th day of February, 1856, John Henry Palmer was elected a director of the first school district between the Abiqua and Butte Creek. The school house in those days was about a mile away, just over the corner of the Butte. The little clearing and some old rotten timbers were, a few years ago, plainly discernible on the spot.
The Palmer family consisted of twelve children, namely: George Washington; Nixon, who lost his life a the hands of the natives while prospecting for gold in south Africa; Lucy J., who married Frank Maddock; Clarissa, Henry L., Marion, Brunette, who married Monroe Cleaver; Martha, Thomas, Edwin, Herbert, and Constantine B., the last named residing in Kansas.
John Henry Palmer died March 1, 1894, his wife surviving him until the 19th day of November, 1907. He was the type of our ideal American citizen, upright, progressive, intensely democratic and of strictest integrity. His long and useful life was filled with good deeds. Don. Cer. No. 1870. Port. and Biog. Record, 1202."
Down, Robert H., A History of the Silverton Country, (Portland, OR 1926).
1
John Henry Palmer and
Catherine Nowlin

Graves
arrived in Oregon September 2, according to the Donation Land Claim, which probably means they arrived at Oregon City, to put in their claim, or Graves Butte, by that date. The Indian Agent at the Utilla Indian Agency (near today's Echo, Oregon) kept a log of the immigrants as they passed through the area. The train, as it passed the agency on 15 August, consisted of 130 people, 53 men, 21 wives (one fellow had two wives) and 56 children. Included were: Graves, T. and Palmer, J., w, 3s, 2d.
Based on the "journal" of Benjamin Cleaver in 1848, and other contemporary records, it may be expected that they left Independence or St Joseph around 24 April 1853.
September 7, 1848, B Cleaver is at Laurel Hill (the Barlow Trail), 3 September 1853, J and C Palmer "arrive in Oregon" but have been in Oregon since 15 August when they are counted at the Utilla Indian Agency (Echo) Oregon. Henry Laramie was born in or near Fort Laramie 5 Jun 1853, Benjamin Cleaver was "at Fort Larama" 8 June.
Backing up, Benjamin left St Joseph 27 Jun, so the Palmers must have been on the road that week or the week before (depending on how long they stayed at Fort Laramie.)
3
In her Master's Thesis for the University of Oregon, written in 1932, Sr. Ursula Hodes noted, "About 1881 the people had cut out a small clearing near the present site of the real estate office owned by Paul Fox, and offered to put up a building if someone would open a store. Subsequently a community store was erected and Cash Barlow and White became its first proprietors. Shortly after John Palmer bought the store.....
"On February 1, 1882, the first postoffice was established in the Palmer store. Monroe Cleaver was appointed first postmaster which position he held until July 13, 1892. As it was not customary for the "Narrow Gauge" to carry mail at the time, the mail was brought from Woodburn by Fred Miller, carried ....(end of page, no continuation on next page)."
4