Jewel Irene Palmer1,2
#8469, b. 19 August 1894, d. 31 March 1949
     Jewel Irene
Palmer
was born on 19 August 1894
Macon County, Missouri
.
1
She was the daughter of
William Burton

Palmer
.
1
Jewel Irene Palmer died 31 March 1949, in Enid, Garfield County, Oklahoma at age 54 years, 7 months and 12 days.
3
     In spite of the difference in ages, Jewel and Verna Lee graduated from the University of Missouri-Columbia in 1916.
Both of them with degrees in Education, Jewel was a member of the Home Economics Club, both members of Alpha Phi Sigma, which at the time was the education fraternity at the University of Missouri.
4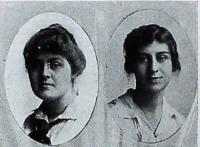 Jewel was a teacher, and never married. On September 9, 1918, she requested a passport for the purpose of traveling to Japan to teach school.
On the 1920 census, she is listed with her family in Columbia, with her occupation stated as "Missionary Teacher - Japan." It is not known whether she was in Japan, had come back from Japan, or had not yet left for Japan.
She was part of the Foreign Christian
Mission Society, an arm of the Church of the Desciples. On 6 January 1921, an article in the Columbia Evening Missourian, Columbia, Missouri (p 1):
"Christian Church Reports Growth in Each Department.
...Miss Jewel Palmer, who is doing missionary work in Japan, is supported by the Women's Council of the church..."
On September 1922, she arrived in Seattle from Kobe, Japan.
On 5 January 1929, she arrived in San Francisco, California from Yokohama, Japan.
By the time of the 1930 census, she was back home in Missouri with her parents. She is listed as a teacher of Domestic Science.
On 17 October, 1930, the
Sikeston Standard
reported, "Miss Jewell Palmer of Columbia Missouri State Secretary of the Young Women's Missionary Circle work of the Christian church, who is a returned Missionary from Japan gave a very interesting address Tuesday morning at the high school in this city. She gave a very vivid account of her eight years' work as a Missionary in Japan..."
By 30 January 1966, the
Columbia Missourian
was reporting on the "Jewel Palmer Circle of the First Christian Church, organized 26 years ago."
"In 1912 Miss Edith Parker opened the school of Home Economics in some rooms of the dormitory....
Miss Parker is a graduate of the University of Missouri...
The latest addition to the staff if Miss Jewel Palmer."
5