George Washington Palmer
#1223, b. 26 July 1842, d. 26 April 1911
     George Washington
Palmer
was born on 26 July 1842
Montgomery County, Missouri
. He was the son of
John Henry

Palmer
and
Catherine Nowlin

Graves
.
1
George and
Mary Ann

Parks
, daughter of
George Ballard W.

Parks
and
Cynthia Ann

Richardson
, were married 13 December 1866
Umatilla County, Oregon
.
1,2
George Washington Palmer died 26 April 1911, in Benton City, Washington at age 68 years and 9 months.
1
     He has been called Wash. On 24 March 1894, George Washington Palmerresided
Mt. Angel, Marion County, Oregon
, according to the probate documents for his father's estate.
3
George and
Mary
lived in Whitman County Washington as well as in Marion county, Oregon, and in Kiona, Washington.
Taken from a volume entitled:
HISTORY OF KLICKITAT, YAKIMA AND KITTITAS COUNTIES, WASHINGTON
743, 744
George W. Palmer. A typical pioneer of the West is the subject of this biography, whose interesting life would in itself fill a volume, so varied have been his experiences and so broad their scope. Missouri is his native state.
He was born in 1842 to the union of John He and Catherine (Graves) Palmer, natives of Kentucky and Virginia, respectively.
In 1853 the family crossed the Plains and mountains to the northwestern portion of the United States and in Marion County, Oregon, made their humble home. The doughty Scotch pioneer prospered and at the time of his death was a leading farmer of the valley.
George W. attended school and assisted his father on the farm until 1861, at that time entering the freighting business, operating between The Dalles and the famed Oro Fino mines in what is now Idaho. He wintered on the site of Weston, Oregon, having one hundred and twenty five cattle on the surrounding range. The hard winter of 1861 ? 62 killed all but twelve heads. The discouraged young stockman was of necessity obliged to temporarily abandon stock raising. He went Into the Auburn mines in Eastern Oregon and followed mining until 1864, settling in Umatilla County in the fall of that year. During his four years' residence there, he served as a Deputy Sheriff under Frank Maddock. [Note: Frank Maddock was Wash's brother-in-law, being married to Lucy Jane. - pld]
In the fall of 1866 he commenced freighting between Umatilla, Oregon and Boise, Idaho, also between other mining centers, following this work until 1872, when he purchased an interest in the Connor Creek mine, Baker county and operated it three years. He installed the first stamp mill erected on that ledge.
Meanwhile, having retained his stock interest, in 1876 he sold the mine and went to the Palouse region settling near Colton, Washington. He resided there, engaged in stock raising and farming until 18911 then sold his property and went to the Willamette valley, entering the hop raising industry. The valley was his home until 1899, and in that year he removed to Yakima county and entered the stock industry in the lower valley. The family came to their present home, two miles north of Kiona in July 1903, settling upon a forty acre farm irrigated by the Kiona canal.
Mr. Palmer and Miss Mary A. Parks were married in 1869, the' ceremony taking place in Umatilla county. Mrs. Palmer was born in Indiana in 1848 to the union of George B. and Cynthia (Richardson) Parks, natives of Kentucky and Illinois, respectively. George Be Parks was married in Indiana, and in 1853 with his family followed the tide of emigration westward across the Plains to the Oregon country, settling in Douglas County. He lived there until 1863, when he removed to Umatilla County, and during the next quarter of a century was engaged in farming, stock raising and freighting in Eastern Oregon and Idaho Territory. He then returned to the Willamette valley and lived the remainder of his days in that beautiful locality.
Previous to her marriage, at the age of twenty-one, Miss Parks taught school several times in Oregon.
Mr. and Mrs. Palmer have been blessed with three children: John B., born in Baker County, Oregon, March, 24, 1870, living near Kiona: Nixon, born in Oregon, May 7, 1873, also living near Kiona, and Mattie born in Washington, March 10, 1878, living with her parents.
Mr. Palmer is connected with only one fraternity, the Masons. He is an active and a considerable factor in local politics, In 1887 he was elected a Commissioner of Whitman County and served two years, making a creditable record.
His business interests are many and include Five hundred and forty acres of farming land in Oregon and Washington, one hundred fifty head of cattle, and various mining property in Oregon. He is making a specialty of breeding thoroughbred Hereford cattle.
Mr. Palmer has met with a most commendable success in his business endeavors, has lived a life of usefulness, faithfully performed his duty as a citizen and a neighbor, and has founded a. happy, comfortable home.
Children of George and Mary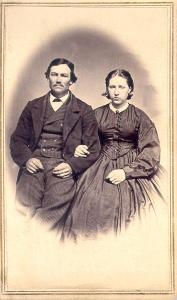 George Washington Palmer (Wash) and Mary Parks. Probably their wedding picture.