Celia Humphries1
#1834, b. 8 March 1802, d. 28 July 1893
     Celia
Humphries
was born on 8 March 1802
Pulaski County, Kentucky
.
4
She was the daughter of
George

Humphries
and
Charlotta

(--?--)
.
2,3
A marriage bond was filed for Celia and
Caleb

Richardson
dated on 2 February 1818
Pulaski County, Kentucky
. The bond was signed by There is a marriage bond dated 2 Feb 1818 for Sealy Humphreys and Caleb Richardson (as transcribed), consent of his mother, Jane Richardson, and of her father, George Humphries. Boler Humphries surety for the bond (1).
A copy of a list of marriage returns, by marriage date has (handwritten) Cabel Richardson and Selay Musshras, 29 January 1818. (2.)
5,6,7
Celia and
Caleb

Richardson
, son of
William

Richardson
and
Jane

Bobbitt
, were married 29 January 1818
Pulaski County, Kentucky
.
7
Celia Humphries died 28 July 1893, in Colton, Whitman County, Washington at age 91 years, 4 months and 20 days
2
and was buried
Colton Cemetery, Colton, Washington
.
     ( Umphries /Humphreys.) As of 2 February 1818, her married name was Richardson.
5
From
Counties of Howard and Tipton, Indiana, Historical and Biographical

P 157
Caleb Richardson and his wife Celia came from Boone County and pre-empted what is still known as the old Richardson homestead in 1845. Unto them were born sixteen children, fifteen of whom lived to have families of their own. Their names, although not in order of their ages were William, Charlotte, Jane, George, James, Stephen, Jackson, Strange, Caleb, Emeline, Cynthia, John, Joel, Mary Ann, Jonathan, and Francis Marion, the last dying when he was an infant. Mr. Richardson died several years ago, but Aunt Celia is still living. She is now about seventy-seven years old, and has seen all her children buried but five. Richardson was one of the first settlers in his neighborhood. His house was a home for the traveler and the land seeker. He was founder of Methodism in this part of the county. For several years his house was the place of meeting. He helped establish the Pleasant Grove Association, and with David and P. Hutto built the Pleasant Grove Meeting House. His infant child, Francis Marion, was the first child to be buried in the Richardson Graveyard. A remarkable fact connected with the history of this graveyard is that there were sixteen children buried in it before any grown person.
p 162
the Methodist Episcopal Church oat Sharpsville was organized in the fall of 1852, by Rev. Hopkins, who was preacher in charge of the Normanda Circuit. The first class was composed of the following members: Madison Grishaw, America Grishaw, James Comer and wife, Washington Grishaw, Caleb Richardson and wife, George Richardson and wife, Callaway pierce and wife, V. C. Wisner, and a few others whose names cannot now be ascertained...
p 170
..The oldest record that can be found at the courthouse shows that Richard Humphries was elected Justice of the Peace August 27, 1845, and qualified December 12, 1845, with the following sureties: Jesse Harding, David Humphrey, Willis Ball, and Caleb Richardson.
8
Children of Celia and Caleb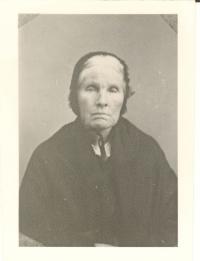 Celia (Humphries) Richardson, a modern snapshot from a much earlier carte de visite, probably