Mary Dicie Graves
#3748, b. 27 April 1879, d. 24 March 1953
     Mary Dicie
Graves
was born on 27 April 1879. She was the daughter of
Ernest

Graves
and
Lucinda

Holloway
. Mary and
William J

Staniford
were married. Mary Dicie Graves died 24 March 1953, San Mateo County, California at age 73 years, 10 months and 25 days, Name: Dicie G Staniford
[Dicie G Graves]
Social Security #: 0
Sex: FEMALE
Birth Date: 27 Apr 1879
Birthplace: California
Death Date: 24 Mar 1953
Death Place: San Mateo
Mother's Maiden Name: Holloway
FATHER'S SURNAME: Graves.
1
     Her married name was Staniford (Graves). ( Dicia M in census.)
This may be the "Dicey" Graves who married William J Staniford. She is listed on the 1900 census as Dicia M.
FiL is George B. Staniford, b Aug 1837
Sarah T. wife, b Dec 1841
William B. son, b May? 1873
Dicia M, DiL b Apr 1879
George B. is a Tailor, William B is an Agent for [W.F.E] (federal express?)
I'm saying yes.
As of the 1910 census, Dicie and William have three girls, Dicie, 8, Willimena V, 3, and Sara G, 1 4/12.
"Thirteenth Special Maid Of Honor And Representative Of San Luis Obispo County...
Was Miss Dicie May Graves, selected by the Board of Supervisors of that county to be its representative at the celebration at Monterey, and chosen by California as a Special Maid of Honor. In her the streams of the blood of the American and Spanish races are united, and that which once flowed in hot currents of fierce antagonism has found a tranquil and placid reservoir from which new rivers of life will flow on for all time in our Golden State. The olive tint of the mingled Castillian and Mexican blood is crimsoned with that of the sturdy Anglo-Saxon, and produced a marvelous type of beanty peculiar only to California and stamped indelibly a new character among the people of the Pacific Coast. She is the danghter of Mr. Ernest Graves, of San Luis Obispo, and on one side a granddanghter of Comrade William J. Graves, a veteran of the Mexican War, and on the other the great-granddanghter of Jesus Jose Pico, of Fremont fame, whose life was forfeited by a violation of his parole, but saved by the pleadings of his distracted family and the magnanimity of Fremont's clemency and humamty.
Miss Graves completed the list of the thirteen Special Maids of Honor to California among whom five counties of the State were represented.
*History of the celebration of the fiftieth anniversary of the taking possession of California. . . "
Associated Veterans of the Mexican War. Carruth and Carruth Printers, 1896.
2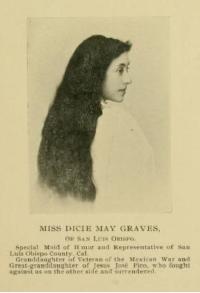 Citations
[S35] State of California. California Death Index, 1940-1997, accessed from Ancestry.com.
[S599] Commodore John Drake, USN Sloat, History of the Celebration of the Fiftieth Anniversary of the Taking Possession of California and Raising of the American Flag at Monterey, California. (Oakland, CA: Carruth and Carruth Printers, 1896), pp 43, 44.